Introduction
Today TV networks offer to viewers mass of different program content. In the past zapping was the only way of navigating trough the jungle of TV channels or services. Nowadays, the nature of content search has changed.Viewers prefer to pick from a list of content instead of zapping and recognizing the current content. Therefore viewers require to have a sorted list with user selectable content type (film, sport, education,..), to have the possibility of setting reminders on upcoming desired content or even set an event triggered local recording for watching the content later, at a moment when it will more convenient to watch.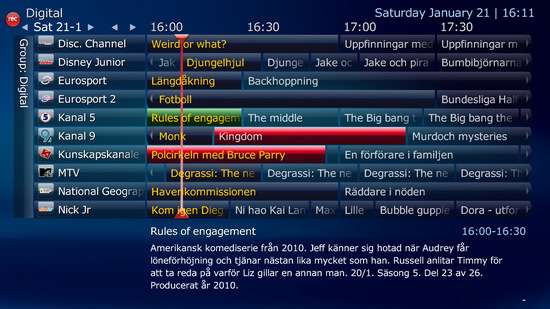 The Electronic Program Guide (EPG) was developed for this purpose. On one side, it is a data service next to audio and video components and is an added value for the television service provider. On the other side, it is the basic required functional block that the TV set or set-top-box shall offer to the viewer. In general EPG provides an on-screen information about the current and following emitted content, as well as scheduled program content up to 63 days in advance. This is only in theory. In practice no network operator offers an EPG for more than a week ahead. Any longer will be not practical, neither useful. On one side the digital receiver has a limited amount of memory for storing large amount of content based metadata, which causes a buggy response and on other side the distribution system has a limited channel capacity to transmit large amount of content based metadata. This means, a compromise is usually the right and valuable solution.
cherryEPG is a flexible tool suite, which generates an appropriate digital output data stream from ingested input data for enabling the digital receiver to show an on screen EPG over the rendered video content. Thanks to its configurability, the operator can set his settings within a simple spreadsheet file and reconfigure the system. cherryEPG will extract properties from the *.xls file reconfigure itself accordingly. Such a way of configuration is nowadays not very common, but it allows user friendly configuration planning and documenting at the same time.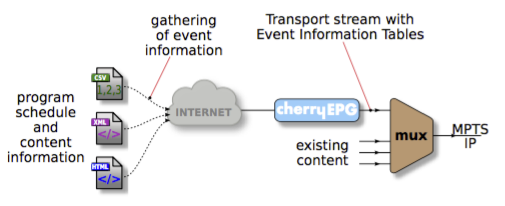 The digital receiver renders EPG from a DVB Event Information Table (EIT), specified by ETSI EN 300468 standard and streamed with a multiplexer on the output of TV head-end. Therefore, cherryEPG is connected to the input of the multiplexer. The network operator has to assure, that cherryEPG has access to the external world trough an IT infrastructure.
After scheme configuration it starts to fetch data from different content providers or content aggregators. Many different formats and methods are supported. All the collected event information are stored in the internal database from where the output EIT tables are generated and played out according to the DVB standard EN 300468 and Technical Specification TS 101211. Because the output of the cherryEPG is on IP, it can be physically located anywhere in the network and is not limited to the head-end room. Because the output is standardized, the generated output EITs are suitable for any DVB broadcaster or network operator for use in their cable, satellite or terrestrial distribution network.
cherryEPG supports many networks with hundreds of services and full mashed configuration. With such a flexible configuration options it allows also white label EIT service generation for many distant distribution networks interconnected to the same central distribution point.
How did it started
cherryEPG was developed back in 2001 by enthusiastic digital engineers, as a challenge to prove their DVB "know-how" and technically demanding programming skills. It is used from the first day in the national and commercial terrestrial DTV networks in Slovenia. First it allowed the simplest data structure generation and over the years it evolved to a modern architecture with advanced features on a professional level. It has everything needed to generate a multilingual electronic program guide, as well a powerful PSI/SI for generating each and every needed DVB table type (not all yet implemented) and a simple transport stream playout engine. It is capable of generating also HbbTV signalization, which enables the network operators to convert an old fashioned television networks to a modern interactive ones with added value to serve their digital community.
Development status
cherryEPG is continuously evolving. It meets demands of different customers, from simple DVB compliant tables playout within a digital terrestrial, cable or IPTV networks to R&D lab experimenting or learning support for students on academic level.